What We Do
Our 6 Step Process
We understand the things that are important to you. And our relationship with you and the process for securing your future begins right there. At Dody Legacy Group LLC, we put not only our own considerable experience to work on your behalf, but we also leverage our strategic resources to bring you the knowledge of professionals experienced in taxes, law, life insurance, accounting, and philanthropic planning. This coordinated approach helps ensure that all areas are considered in order to formulate the right course of action for you.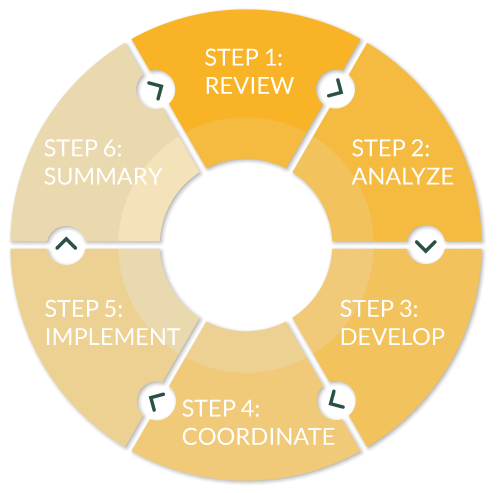 Step 1: Review
Review your individual situation and personal objectives. Every financial situation is unique. That's why it's so important to find out as much as we can about you and your financial goals. The more we know about you, the more precise recommendations we can make and the more we can help you. As a result, we may take some time to discuss your hopes, dreams and objectives — the things that really matter to you. This is the basis for the first meeting with anyone we sit down with.
Step 2: Analyze
Analyze and review your needs. As needed, we will work with you to identify and prioritize your objectives, and then help establish benchmark goals. This is important because we live in a world of unlimited choices. People often fail to achieve objectives because they try to accomplish too much at once, or they don't attach specific deadlines to their goals. By breaking down your goals to specific objectives, you can look at available resources and decide which goals are realistic, which need to be adjusted and scaled down, and which simply must be abandoned.
Step 3: Develop
Develop and implement a strategy to help you achieve your goals. Based on our conversation and analysis, we can recommend the steps that it will take to help you achieve your financial goals.
Step 4: Coordinate
Coordinate your financial activities. We regularly coordinate insurance and financial activities for clients with the other members of their team of financial, tax and legal advisors. We can do the same for you.
Step 5: Implement
We'll implement your plan, and work closely with you and your other third party professionals to ensure its success. We'll monitor progress and provide ongoing service as your needs and situation change over time.
Step 6: Summary
Planning is not a one-shot deal. Strategies need to be adjusted periodically as your life and the economy changes. We will work with you over the years to help keep your program on track with your changing needs.
Our Services
Working With Other Advisors
At Dody Legacy Group LLC, we work with attorneys, accountants, trust officers and other financial advisors to better serve the needs of our clients. This collaborative approach gives our clients the most comprehensive service available.
Read More
When you partner with Dody Legacy Group LLC, you can rest assured that we will work with you to develop a mutually agreeable process for interacting with our shared clients. We know that every organization has different methods and preferences for how communication is handled, so we are flexible and adaptable in order to effectively meet the needs of our clients within a cohesive team environment. We will always maintain open lines of communication and keep you apprised of all developments.
We are a results-oriented firm, and we will deliver creative and effective solutions for your clients in the areas of business, estate, succession, and tax planning. We invite you to explore our website to gain a clearer understanding of our team and the resources we bring to the table. If you have questions or would like to discuss a particular client that we may be of assistance with, please don't hesitate to contact us.
Neither Dody Legacy Group LLC nor its agents offer legal, tax or accounting advice. Please consult your own tax, legal or accounting professional before making any decisions.
Financial Planning
We provide personalized financial planning to our clients that is specific to several variables including their income, risk tolerance, values, and family. We work with each client to identify and prioritize their goals, explore options, establish effective strategies, construct and execute a plan, and assess the performance of the plan and make adjustments as needed.
Estate Planning
A well-engineered estate conservation plan can minimize tax liability and ensure that loved ones are protected. We will work with you and your other advisors to assess the impact of state and federal taxes on your estate and suggest strategies to help minimize those taxes while meeting your personal philosophies and family needs.
Asset Protection
There are numerous financial strategies and retirement income strategies that can help you accumulate assets for the future, protect your business and personal assets from liabilities, and safeguard asset transfer to children and grandchildren. We can help you figure out what the right course of action is for your specific situation and objectives.
Charitable Planning
Charitable planning allows you to support the organizations and causes that matter to you, while providing immediate income streams and reducing your tax burden. Numerous charitable giving strategies exist, and we can help you design and execute a charitable giving plan that is in alignment with your personal and philanthropic goals.
Disability and Extended Care Needs
To execute a sound retirement strategy, asset and income protection are a must. Designing a plan that encompasses long term care insurance and disability insurance can create the necessary balance in a portfolio to ensure stability and protection of assets.
Products available through one or more carriers not affiliated with New York Life Insurance Company, dependent on carrier authorization and product availability in your state or locality.
401(k) and IRA Rollovers
When you leave a job or retire, you have a decision to make regarding your 401(k) money. While leaving those assets in the former employer's plan is an option, a rollover can be a consideration. Working with your tax advisor, we can help you determine the right course of action for you. This may include: leaving the funds in your existing plan, if permitted, or rolling them into your new employer's plan, if one is available and rollovers are permitted. Each choice offers advantages and disadvantages, depending on your specific needs and retirement plan, such as the desired investment options and services, applicable fees, expenses, and withdrawal options, as well as required minimum distributions and tax treatment of applicable options.
Neither New York Life Insurance Company nor its agents offer tax advice.
Wealth Management
We work with our clients to design and implement a variety of accumulation and retirement income plans, offering insurance products, investment programs ranging from separately managed portfolios of stocks and bonds to mutual funds, and access to third-party wealth management programs. We offer a consistent process to ensure management of investment assets according to your risk tolerances and expected returns investment goals. We then monitor your plan on a continual basis, and adjust and evolve as your needs change.
Succession Planning
Succession planning allows owners to leave their business on their own timeframe while preparing their company to be transferred to family members, key employees, an outside party, or even a charity. This must be done in a way that achieves personal financial security, maintains harmony, and achieves maximum value for the business.
Fund Buy-Sell Agreements
A buy–sell agreement is a legally binding agreement between co-owners of a business that governs the situation if a co-owner dies or leaves the business, whether by force or by choice. A funded cross-purchase buy-sell plan utilizes life insurance to help ensure that the arrangement is properly funded so that there will be money when the event is triggered.
Employee Benefits
Selecting the right benefit package is becoming increasingly important in retaining the best employees, and keeping them productive. We strive to know and understand your complete financial situation and provide you with the highest quality of information, products, and services to help you reach your goals. Our clients rest assured knowing that we always have their interests at heart.
Focusing on your objectives, budget and culture, we work with you to custom design your group benefits, qualified retirement plans, and voluntary benefits plans to address your employees' unique needs. Our strong relationships with insurers enable us to effectively represent your employees to ensure claims and issues are resolved promptly.
Executive Benefits
The success of most businesses is tied into the talent, passion and work ethics of their key executives. Executive benefit packages can help you attract, motivate, and retain high-caliber employees and keep your company healthy and stable. We can help you fund non-qualified plans, supplemental employee retirement plans, split dollar plans, and more.
Funding Deferred Compensation
Deferred compensation is a written agreement between an employer and an employee where the employee chooses to have part of his or her compensation withheld by the company, invested on their behalf, and distributed back to them at a pre-determined point in the future. Deferred compensation can be used as a flexible way to attract and incentivize key employees.
Key Employee Insurance
Key person life insurance offers a death benefit that helps indemnifies an employer for the loss of one of its most important assets - the key person. This can help assure continuity of the business for employees, customers and creditors, and protects against losses in sales, momentum, and credit. It can also be used to assist with recruiting and developing a replacement for the employee.
Estate Planning
As a farm owner you need to be continually thinking about not only the present, but also the future. Your farmland is not a liquid asset and because of that, settlement problems may arise. The best way to ensure a smooth transition from one farm owner to the next is by estate planning. Essentially this is a framework for the disposition of your assets at the time of death. Not only will this protect your land, but it will also provide for the needs of your family and may help reduce high inheritance taxes. By creating an estate plan with us, you can go forward knowing your farm and your family will always be in good hands.
Succession Planning
In 2008, the Cooperative State Research, Education and Extension Service (CSREES) reported that about 70% of U.S. farmland would experience a change in ownership by 2028. This being said, when passing on a farm and all that comes with it, the owner has many important decisions to make regarding its future. Farmland can be passed on to relatives, employees, outside parties, and even charities. Even after this decision is made, however, many more remain. Succession planning with our team means making these decisions together and making sure your farm will remain economically sound and continue on with the legacy you desire.
Asset Protection
Protecting your assets means getting to know you, your values, and your priorities. We want to know what is important to you and protect that from any unexpected occurrences in the future. Asset protection allows us to work with you to plan for the future, protect your farm and personal assets such as wealth, future income, and property from liabilities and guide the process of transferring assets on to future generations.
Charitable Giving
When a charity or organization matters to you, it also matters to us. No matter what your philanthropic passions are, we are here to help support them by creating a financial plan that includes charitable giving within its budget. Not only that, but as a result of your giving we may also be able to find tax deductions that end up saving you money as you give. In all areas of finance, even giving, our team of advisors can help make the most of your financial plan and wealth.
Buy-Sell Agreements
A buy-sell agreement is a legally binding contract between co-owners of a farm that sets in place a plan in the case of one owner's death or leaving of the business, regardless of the circumstances. Essentially this agreement provides a protected way out of farm ownership if needed. Our team works with you to employ life insurance in such a way that the business will not struggle financially even in the case of a co-owner's death.
Key Person Considerations
A farm is only able to run its best when all of the employees and owners work together and share common goals. But what happens when a key-member of the team passes away? That is where our company can help by providing a form of insurance that will compensate the farm owner in the case of a loss. This insurance protects the farm from a loss of sales, credit, and work force and can be used to find another worker to take his or her place. When you think of your farm's employees, is there one employee you cannot imagine working without? Does this member bring skills and ideas that no other employee can? If so, we can help you protect your farm even in the case of this worker switching employers, becoming disabled, or dying.
Whole Life
Whole life insurance is also known as permanent insurance. You receive coverage for your entire life, as long as premiums (which are a set amount per period) are paid. Whole life policies accumulate cash value tax-deferred.
Term Life
Term life policies provide coverage for a specific amount of time—such as five years, 10 years, or 20 years. Term premiums are often less expensive than whole life premiums, but once the term of the policy is complete, coverage terminates. There is no accumulation of cash value.
Universal Life
Universal Life insurance is designed to offer customizable death benefit protection with non-guaranteed planned premiums and a non-guaranteed death benefit. Depending on the product selected and the amount of premium you pay, Universal Life insurance can allow you to keep your coverage as long as you need: to age 80, 90, 100 or longer. Because of the policy's flexible and non-guaranteed nature, it is important to fund your policy properly and actively manage your policy to reflect changes in interest crediting rates and policy charges over the duration of your policy.
This policy will terminate if at any time the cash surrender value is insufficient to pay the monthly deductions. This can happen due to insufficient premium payments, if loans or withdrawals are made, or if current interest rates or charges fluctuate.
Variable Universal Life
Variable Universal Life Insurance combines the premium and death benefit flexibility of a universal life policy with investment opportunities. You may allocate your premium among a variety of professionally managed investment divisions plus a fixed account. Of course, with investment opportunities comes risk along with the potential for reward.
These products are offered by prospectus through NYLIFE Securities LLC. (member FINRA/SIPC), and a Licensed Insurance Agency.
Survivorship Life
Survivorship Life insurance—available as whole life, universal life, or variable universal life —covers two people and provides payment of the proceeds when the second insured individual dies. Survivorship Life insurance is often used to help meet estate planning or business continuation goals.
Fixed Deferred Annuities
With a fixed deferred annuity, the interest rate on your policy is guaranteed never to fall below a certain amount.* For many people, this provides a measure of security.
(A fixed deferred annuity is subject to a sales charge for early withdrawals, which may be subject to income tax. Withdrawals prior to age 59½ are subject to a 10% tax penalty.)
*Guarantees are dependent upon the claims-paying ability of the issuing insurer.
Lifetime Income Annuities
A lifetime income annuity is an annuity in which income payments begin one period after the annuity is purchased. It is designed to provide you with predictable income monthly, quarterly, semiannually, or annually, no matter how long you live, and regardless of how the financial markets perform.
All guarantees associated with annuity contracts are based on the claims-paying ability of the issuing insurance company. Withdrawals may be subject to regular income tax, and if made prior to age 59½, may be subject to a 10% IRS penalty. In addition, surrender charges may apply.
Variable Deferred Annuities
To execute a sound retirement strategy, asset and income protection are a must. Designing a plan that encompasses managing costs for extended periods of care and disability insurance can help create the necessary balance in a portfolio to ensure stability and protection of assets.
Products available through one or more carriers not affiliated with New York Life Insurance Company, dependent on carrier authorization and product availability in your state or locality.